Download and share
The new Awareness Posters with the Erectile Dysfunction theme will be available here soon.
Hang the Awareness Posters at your clinic, in your office, in the waiting room or wherever they can grab attention. Take a selfie with them, either by yourself or with colleagues. The more creative, the better! Remember to use the hashtag #urologyweek when you share your selfies via social media.
Would you like to have posters in your language? Help us translate them! Send us your request and translated text via email. Posters of previous editions of Urology Week were translated from English into nineteen languages! You can still download all of them below.
Posters of Urology Week 2019:
2019 Poster BPH
2019 Poster BPH (oranges) in other languages:
 2019 Poster BPH (oversized cup) in other languages:
2019 Poster BPH (big pants) in other languages:
2019 Poster Prostate (brushing teeth) in other languages:
Posters from previous years:
2018 Poster Men's Health (man with tattoos)
2018 Poster Prostate Check (man brushing his teeth)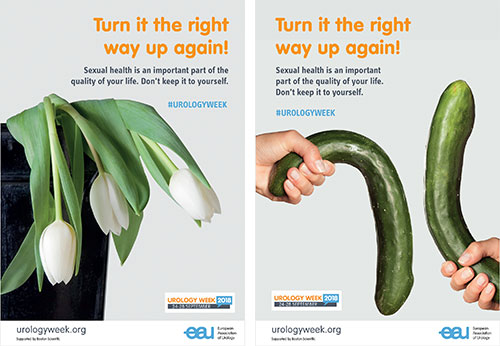 2018 Poster Sexual Health (tulips)
2018 Poster Sexual Health (cucumber)
---
More posters: