Get inspired
Curious about previous Urology Week activities and events? Check out the photo impressions below for inspiration!
EAU colleagues run for Urology Week 2019

Urology Week 2019 open day in Czech Republic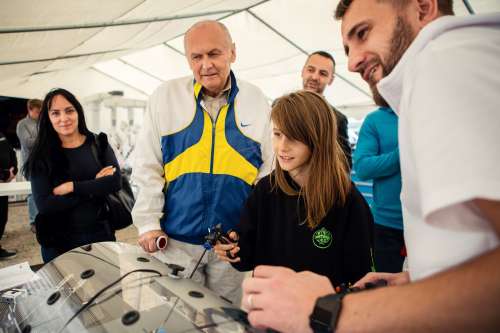 Urology Week 2019 symposium in Bor Lake, Serbia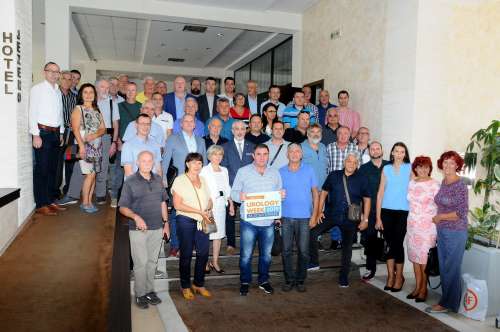 Articles in the Albanian newspaper, by AUSA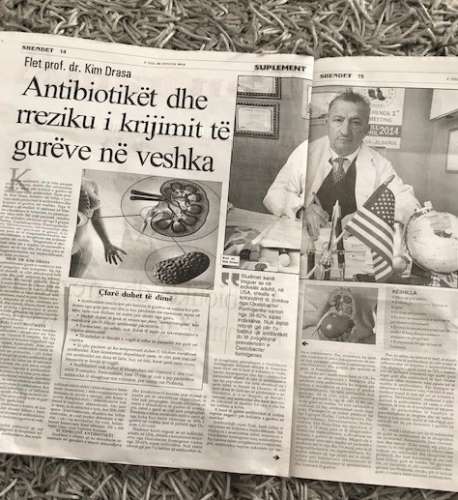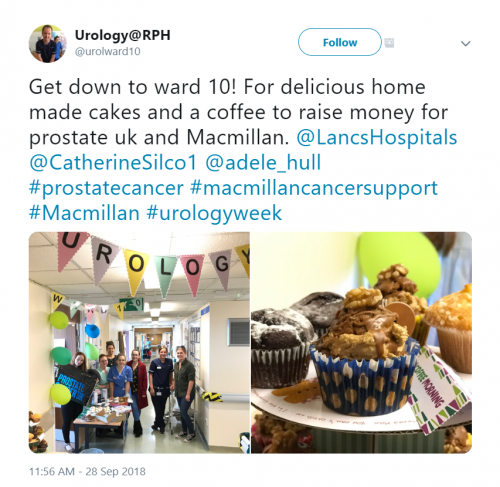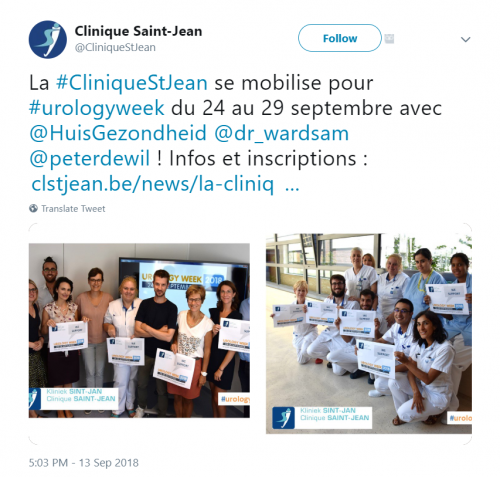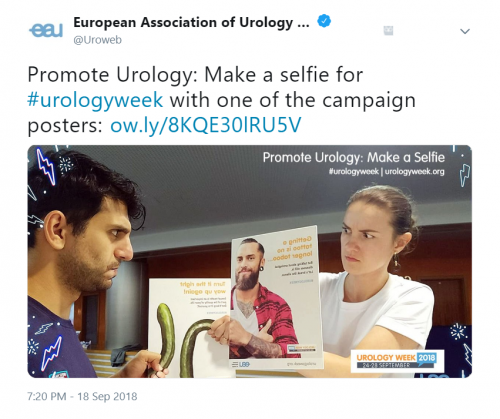 Other past events:
Visitors test their surgical skills in a shopping mall
 Kiel, Germany



Visitors of the CITTI-PARK  shopping mall in Kiel, Germany had the unique opportunity to test their surgical skills on September 18-19, 2015. The ultra-modern robotic operating system was placed in the middle of the mall to familiarise visitors with it. This was also used to encourage them to ask personal health-related questions in an informal atmosphere.
Elsewhere in the CITTI-PARK mall, a large model of a prostate (2.30m x 4.80m) was on display to demonstrate the complexity of the male urinary tract.  The model showed the fine interplay of the prostate, urethra, bladder, and the pelvic floor.
The event successfully raised public awareness of urology and also introduced the general public to the operating room of the future.
Geneva fountain illuminates in blue
Geneva, Switzerland 
PROSCA and the Geneva League against Cancer (LGCG) arranged for the Jet-d-eau-fountain in Geneva, Switzerland to illuminate blue in celebration of "International Prostate Health Day" on September 15, 2013. This was the third time the fountain was lit in blue to coincide with the PROSCA's 10th anniversary.
Next to changing the Geneva skyline blue, PROSCA's other campaigns included an advertising in the Geneva public transport system to raise awareness of prostate diseases.
In Switzerland, the month of September is dedicated to men's health,  with a special focus on prostate.
Urologist for a day
German Urological Society (DGU)
Every year, the DGU organises the popular initiative "Urologist for a Day". Fun and highly educational, this special undertaking involves a younger audience – high school students ages 16 and up.
The students enrol for a full day of theoretical and practical trainings. These trainings give them the opportunity to know more about urology and encourage them to possibly pursue a career in the field in the future.
Albanian Urologists & Sexologists Association (AUSA)
AUSA organised a fun, but highly educational initiative "Urologist for a Day"as well! It was aimed to raise awareness about kidney cancer, bladder cancer, and prostate cancer through early detection of these diseases.
Q&A about BPH on air
Baku, Azerbaijan

Dr. Parviz Nasirov, a urologist at the Modern Hospital in Baku, Azerbaijan, arranged a one-hour broadcast on the 100.5 Burc FM radio station. Listeners could call in with all their questions about benign prostatic hyperplasia (BPH). Dr. Nasirov answered the questions and provided listeners with general information about this common but bothersome condition.
In addition to the broadcast, the Modern Hospital translated English patient-oriented information leaflets containing post-TURP instructions into Azeri. All patients undergoing TURP at the Modern Hospital will receive these information leaflets from now on.
Set up back-to-back activities
Tirana, Albania

The Albanian Society of Urology organised "EAU Urological Week" and 11 symposia of urology wherein 242 doctors participated during Urology Week 2014.
Albanian Urologists & Sexologists Association (AUSA) carried out a street poll among bystanders in the centre of Albania's capital, Tirana. This face-to-face engagement gave AUSA an indication of public's knowledge on PSA testing. The association also helped to arrange free PSA examinations wherein more than 350 men received a free consultation.
President of AUSA, Prof.Ass.Dr. Kim Drasa, wrote several articles which were published in local newspapers. He was also interviewed by two important national television channels.
AUSA also organised a walk against kidney cancer, bladder cancer and prostate cancer that gathered over 700 people.
Key opinion leaders meet in the European Parliament
Brussels, Belgium

Key policy makers, scientific experts on European urological associations and representatives of patient groups gathered at the European Parliament in Brussels to discuss the impact of prostate cancer on Europe as part of the European Prostate Cancer Awareness Day (EPAD) 2015.
Two issues dominated the lectures and presentations – the lack of communication regarding QoL issues and the necessity for PSA screening.
Effective communication is essential in the early detection of the disease. "Men should check their body better. At the European level we should inform men about the early signs and risks similar to what has been done in breast cancer initiatives. This will lead to a lower mortality rate, better healthcare services and outcomes with less expenditure," was the general opinion.
The role of active surveillance was also highlighted. A prediction tool, which analyses other factors besides PSA, is expected to reduce the potential harms in screening tests. There was also agreement among doctors and patients that the European Commission can play a role in standardising guidelines and regulations for a more integrated management of prostate cancer.
By comparing different outcomes, healthcare professionals can properly validate different test results and can improve their treatment strategies, including a more individualised approach.
Another benefit of data sharing is building trust with patients. The participants noted that well-informed patients would lead to better results, lower costs and improved care.